THE WILDCATTER
Wildcat Homeowners Association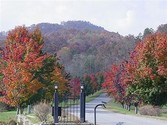 The Beautiful Wildcat Development in Murphy NC
Wildcat Subdivision is located in the Martins Creek community in Murphy NC and is widely regarded as one of Murphy's finest. It's a gated community with paved roads, underground utilities, a system of shared wells, and some beautiful homes. It features creeks, woods and spectacular long range mountain views of 3 states. Wildcat is a place where you can see White-tailed Deer and Bluebirds everyday and you notice the quiet. It's is a stable, established community and a great place to live!
It has an active Board of Directors and volunteers who are dedicated to enhancing the experience of living in Wildcat. Residents come from a large range of business backgrounds, experiences and ages. Wildcat is a great place to live, work or just enjoy!

Types of Homes in Wildcat
Wildcat features a variety of different home styles with many being chalet style for good views of the great outdoors from inside. A home in Wildcat was even featured on the Today Show! No matter you like, you're bound to find the perfect fit.
Gated Entrance
Wildcat features gated landscaped entrance. Each owner gets their own gate code and remote access.
Land in Wildcat
Wildcat consists of hundreds of acres. Every home is built on a minimum of one acre lot. Some homes are extremely private.
Restrictions
In most of Murphy NC, land use is governed by deed restrictions. Wildcat Subdivision is no different. The restrictions are quite common. Restrictions such as no junk cars, and no trash in the yard are the norm. You can view the restrictions on this we site so you know what to expect. See the Declarations and Bylaws on this web site.
Owners Activities
www.theWildcatter.com web site is the go to site for owners to learn about the Wildcat HOA and to get involved in Wildcat activities. Some owners are full time residents; some are seasonal or occasional residents. Wildcat is a quiet, peaceful community near the county seat of Murphy, only 6 miles away. You may need to listen very carefully to hear anything other than the wind in the trees, water in the creeks and birds. The John C. Campbell Folk School is located nearby. And there is a new casino and great kayaking opportunities nearby for the more adventurous.
Realtors
There are many realtors serving Murphy NC and Wildcat. Keep in mind that realtors in the area will gladly show you their own listings and may avoid showing other homes! You may need to specifically ask to see other homes in Wildcat that are not offered by your realtor.
What Realtors Have to Say About Wildcat
Come to Wildcat and enjoy!